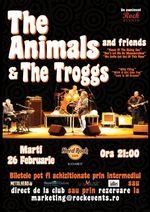 Categorie: Muzica
Bucuresti, Hard Rock Cafe
26 Februarie 2013 - 27 Februarie 2013, 21.00
Cine poate uita "Wild Thing"sau "The House of The Rising Sun"?
Rock Events readuce publicului român legendarele trupe britanice The Animals & The Troggs, în concert la Hard Rock Cafe.
Biletele sunt disponibile la preţul de 75 Ron în picioare,sau 100 Ron loc la masă.
Un eveniment sustinut de Rock Events Production si Radio Guerrilla.
Trupa The Animals s-a infiintat la inceputul anilor 60 in Marea Britanie si a cunoscut o ascensiune spectaculoasa in topurile in intreaga lume cu hit-uri precum: "The House of the Rising Sun", "We Gotta Get Out of This Place", "Don't Let Me Be Misunderstood", "I Put a Spell On You"".
In prezent, sub numele de The Animals & Friends, trupa are in componenta doi membri din trupa originala The Animals: John Steel si Mickey Gallagher.
John Steel, drums – The Animals
Mickey Gallagher, keyboards – The Blockheads, Paul McCartney, The Clash, Eurythmics
Peter Barton, vocal / bas – Boomtown Rats Roberts & Crowe – Wayne Fontana's Mindbenders
John E. Williamson, vocal / guitar – Titanic
Sunt mai ales cunoscuti datorita versiunii proprii a melodiei "The House of the Rising Sun".
Albume Marea Britanie
The Animals (Octombrie/1964)
Animal Tracks (Mai/1965)
Animalisms (Iunie/1966)
Winds of Change (1967)
The Twain Shall Meet (1968)
Love Is (1968)
Albume SUA
The Animals (MGM E (Mono)/SE (Stereo)-4264, Septembrie/1964
The Animals on Tour (MGM E/SE-4281, Martie/1965)
Animal Tracks (MGM E/SE-4305, Septembrie/1965
The Best of The Animals (MGM E/SE-4324, Februarie 1966)
Animalization (MGM E/SE-4384, August/1966
Animalism (MGM E/SE-4414, Decembrie/1966)
Eric Is Here (MGM E/SE-4433, Martie/1967
The Best of Eric Burdon and The Animals Vol. II (MGM E/SE-4454, Iunie 1967
Winds of Change (MGM E/SE-4484, Septembrie 1967
The Twain Shall Meet (MGM E/SE-4537, Aprilie 1968)
Every One Of Us (MGM SE-4553, August 1968
Love Is (2 record set, MGM SE-4591-2, Octombrie 1968
The Greatest Hits of Eric Burdon and The Animals (MGM SE-4602, Martie 1969)
The Troggs, una din cele mai autentice trupe ale anilor '60 .
2012 marchează aniversarea a 45 de ani pentru unul dintre cele mai mari hit-uri "LOVE IS ALL AROUND".
Celebrii TheTroggs au fost întotdeauna amintiţi pentru acest imn al anilor '60, unul din multele lor hit-uri. Şi să nu uităm de "With A Girl Like You", "I Can't Control Myself", "Anyway That You Want Me", "Give It To Me" and "Love Is All Around", piese ce au adus trupei The Troggs aprecieri la nivel mondial.
Porecliţi de mulți ca fiind "pionierii punk rock-ului britanic", The Troggs au continuat să concerteze în stilul propriu, lipsit de compromisuri, un rock clasic de foarte bună calitate.
The Troggs au fost catalogaţi întotdeauna ca fiind o trupă controversată. Multe dintre albumele trupei au fost considerate prea sugestive pentru mase, și, prin urmare, interzise.
Unele formatii sau cantareti de garage rock si punk precum Iggy Pop, The Buzzcocks, The Ramones, MC5 spun ca au gasit inspiratie in sunetul formatiei "The Troggs". Melodii ale formatiei au fost folosite pe benzile sonore ale unor filme, de exemplu "Anyway That You Want Me" (in interpretarea formatiei "Spiritualized") in filmul "Me and You and Everyone We Know sau "With a Girl Like You" in filmul lui Nicole Kidman "Flirting (1991). O versiune putin modificata a melodiei "Love Is All Around" a fost folosita in filmul Love Actually (2003).
Discografie:
From Nowhere... The Troggs (1966)
Wild Thing (1966)
Trogglodynamite (1966)
'Cellophane (1967)
Love is All Around (1968)
Mixed Bag (1968)
Contrasts (1970)
Troggs (1975)
Black Bottom (1982)
AU (1990)
Athens Andover (1992)
Extensiile acceptate sunt jpg, gif, png, bmp.

Tine apasat tasta Ctrl pentru a putea selecta mai multe poze.

Sunt incarcate 0 poze. Mai poti incarca 50.