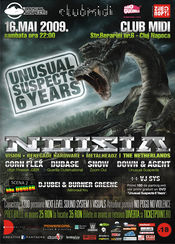 Categorie: Party si Monden
Cluj-Napoca, Club Midi
16 Mai 2009, 22:00
http://www.myspace.com/unusualsuspectsro
UNUSUAL SUSPECTS in colaborare cu Club MIDI , Centrul Cultural German, si Zile si Nopti prezinta:
SAMBATA 16 MAI 2009 ora 22:00
CLUB MIDI (str.Berariei 6) , Cluj-Napoca
UNUSUAL SUSPECTS 6 YEARS ANNIVERSARY
NOISIA
[Vision , THE NETHERLANDS]
http://www.myspace.com/denoisia
BIO
Perioada 2008-2009 este una foarte importanta pentru NOISIA, deoarece cuprinde in primul rand munca la primul album de studio al trupei.
"But most of all, in 2008 the three have focused on producing their first album after six years of releasing singles. The album will be a manifesto of the diversity Noisia stands for, a blend of tempos and styles, listening music rooted firmly in dance music, with the consistent dirty yet clean production quality they are known for. 2009 will prove to be an even more interesting year as their album finds its way to listeners worldwide. An album-release tour is to be expected.
- Besides the album, Noisia have also just recently done something they'd always wanted to do: they have remixed for The Prodigy. The Noisia remix of "Omen" is released midway february 2009. "
Astfel , Sambata 16 Mai 2009, Unusual Suspects are onoarea de a aniversa 6 ani de muzica breaks si drum&bass alaturi de unii din cei mai perseverenti artisti electronici ai momentului.
CORN FLEX
[High Finesse, Dresden / GERMANY]
www.myspace.com/cornflex
BIO
Colectionar, ascultator si dj de drum&bass incepand din 1993, este fondatorul High Finesse Bass Travel Agency din Dresda si un important activist al scenei din zona respectiva.Este un dj caruia ii plac seturile lungi, urmarind reactia publicului, il conduce pe acesta intr-o calatorie muzicala.Promoveaza "vibe-urile corecte", jungle, funky sau liquid drum&bass.
A sustinut mai multe turnee de succes in Romania, fiind adoptat rapid de scena autohtona!
DUBASE
[Guerilla Outernational, Oradea]
www.myspace.com/dubase
BIO
"Sound Warrior" din 1997, este unul din fondatorii dj-scenei electronice din Romania.In anul 2000 incepe sa promoveze genul nu-skool breaks in Romania.In 2002 fondeaza Guerilla Outernational, brand de party, mix si atitudine.Impreuna cu Leizaboy lucreaza la proiecte de coloana sonora pentru festivalul de film Transylvania (Cluj-Napoca) precum si pentru alte festivaluri de gen din Europa.Exploreaza astfel o arie vasta de genuri muzicale, de la salsa la dubstep, de la reggae la nu jazz - calitatea , precizia si selectia atenta fiind coordonatele seturilor sale.
MIXES
www.dubase.blogspot.com
SNOW
[Zoom Out, Cluj-Napoca]
www.myspace.com/djsnowro
BIO
DJ SNOW este un pionier al drum&bass-ului in Romania.In cei peste 10 ani de activitate a impartit scena cu nume mari ale drum&bass-ului si muzicii electronice: Chase&Status, Sub Focus, Ink, Dieselboy, Commix,Noisia,Teebee, Dylan, Black Sun Empire, Loxy, Storm, Marcus Intalex, Aphrodite, Lee, AI, Bailey, SUV, Rennie Pilgrem & Mc Chikaboo, Electrosoul System, Verse si altii.
MIXES
www.dnblog.ro/audio/DNBlogPodcast01_DJSnow.mp3
www.dnbshare.com/download/DjSnow-Trib_Tranzit06.12.07_oldskoolselection_.mp3.html
http://zoom-out.ro/snow/Dj_Snow_-_Invert_Selection.mp3
DOWN
[Unusual Suspects]
www.myspace.com/dj_down
AGENT
[Unusual Suspects]
www.myspace.com/mcagent
SCENA 2 - "THE DUBLAB"
DJUBEI & BURNER GREENE
[Astronaut Kru, Deva]
www.myspace.com/astronautkru
PRET BILET
- 25 RON IN AVANS - Disponibile in reteaua DIVERTA si www.myticket.ro
- 35 RON IN ZIUA EVENIMENTULUI
PRIMII 150 DE PARTICIPANTI VOR PRIMI GRATUIT DVD-UL "UNUSUAL SUSPECTS 6 YEARS!"
Club MIDI Cluj
- Capacitate 1200 persoane
- Soundsystem Surround Funktion One!
- 25 proiectoare + visuals de ultima generatie
- Scena 2 - "THE DUBLAB"
- Aer conditionat
- Garderoba gratuita
- Intrare +18 ani!
- Atitudine pozitiva , NO VIOLENCE, NO POGO!
www.clubmidi.ro
Artist Info
Noisia www.myspace.com/denoisia
Cornflex www.myspace.com/cornflex
Dubase www.myspace.com/dubase
Snow www.myspace.com/djsnowro
Down www.myspace.com/dj_down
Agent www.myspace.com/mcagent
Astronaut Kru www.myspace.com/astronautkru
Unusual Suspects www.myspace.com/unusualsuspectsro
Extensiile acceptate sunt jpg, gif, png, bmp.

Tine apasat tasta Ctrl pentru a putea selecta mai multe poze.

Sunt incarcate 0 poze. Mai poti incarca 50.